Croatia
With piercing turquoise seas and fairytale-like architecture, there is no denying Croatia is breathtakingly beautiful. Spanning most of the Adriatic Sea, you're never too far away from the coast when traveling in Croatia. And even if it's not pretty beaches you seek, stone castles and magnificent waterfalls await travelers of all kinds. Whether you are backpacking through Croatia or are wanting to splurge on Yacht Week, these travel tips will help you plan your next adventure to the Land of a Thousand Islands.
This tall slice of Adriatic coastline in the Balkans is packed full of charming towns and ancient cities, each with their own unique draw. From the walled city of Dubrovnik to the party-heavy islands, the surprisingly welcoming capital and the famous truffle region, we've broken down all the best places to visit in Croatia in this handy guide.
Dubrovnik
One of the most famous cities in all of Croatia, Dubrovnik is popular for many reasons. First, it is a UNESCO World Heritage Site, and deservingly so. And we can't ignore the fact that HBO has put Dubrovnik on the map for a lot of people who may not have otherwise heard of it when they used Dubrovnik Old Town as the backdrop for King's Landing and filmed many scenes there for their hit show Game of Thrones.
You can even take a Game of Thrones walking tour. Guides dressed in costume will bring you to various filming locations and play the scene on an iPad for a group of about 20 people to see. So, if you're a diehard G.O.T. fan, it might be right up your alley.
The medieval stone buildings and churches in Dubrovnik Old Town are fascinating; but now some of them are turned into bars, restaurants, and pirate-theme candy stores, which we found to take away from the authenticity of the Old Town.
You can still have a good time getting lost among the city's narrow alleyways and finding yourself among hidden nooks and crannies.
Best views in Dubrovnik
1. The most popular view: Walk along the Dubrovnik City Wall for 2 km and get a unique view of the city (Entrance: 150 kuna / $24.25 USD).
2. An interesting alternative: An alternative to the city wall walk is to stroll along inside the city to the western side where you'll find the restaurant Buza Bar. The restaurant is described as a "hidden gem bar" where you had to walk beneath an unmarked archway to enter. We were disappointed to find it was packed with people and no longer "secret" at all. That said, the view of the Adriatic Sea is spectacular, and if you climb down the steps you can find a perfect spot for cliff jumping.
3. The highest viewpoint: Take the cable car up Mt. Srd for some epic views of the walled city, seas and surrounding islands. It's especially spectacular at sunset (but also especially crowded, so get there early to get a spot in line!). The cable car cost 170 kn (about $25 USD) for a return ticket. Alternatively, you can take a taxi or Uber to the viewpoint at the top.
4. The best view: Walk uphill through neighborhoods until you get a good view of the city. We packed a picnic (and a bottle of wine!) and enjoyed the view from a small patch of grass as the sun set over Old Town. This was our favorite view and we had it all to ourselves!
Getting off mainland Croatia and visiting some of the country's most beautiful islands like Hvar, Vis, Brač and Mljet, is one way to avoid the huge crowds of Dubrovnik and Split. If you're looking for a laid-back island in Croatia that is bursting with old-time charm, Korčula may just be the Croatian island for you!
How to get to Korčula from Dubrovnik
There are regular buses running between Dubrovnik and Korčula that take approximately 3 hours and will cost you about 100 kn ($16 USD). Another option is to take a ferry from Dubrovnik, which is both faster and more scenic. The Nona Ana Ferry runs this route only during the months (July – September) and the journey takes about 2.5 hours. You can purchase tickets in Dubrovnik at Petka Pier or in Korčula at the Korkyra Tourist Agency.
Things to do in Korčula
1. Rent a bike in town for around 100 kn ($16 USD) for the day, pack a picnic lunch, a map, and head out on your way! We discovered hidden beaches and small villages along the way, making this one of our favorite memories in Croatia. Stop along the way in Lumbarda, a small village on the eastern side of Korčula island where the hills are filled with vineyards and the beaches have crystal clear water.
2. Visit a winery and try the famous white wines. There are lots of wineries on the island of Korčula. Just be sure to check the hours they are open to the public, as some of the wineries have certain hours when they are only open for tour groups.
3. Have a beach day. The beaches in Croatia are world-renowned for their turquoise Mediterranean waters, but don't expect powdery sand that you can bury your toes in while drift to sleep. Instead, most Croatian beaches are pretty rugged, and powdery sand is replaced with small stones. But don't let that deter you from taking a refreshing dip in the water.
4. Rent a scooter. If we had more time in Korčula, we would have loved to explore the western part of the island.
5. Explore the Old Town which is surrounded on all sides by water. The old churches are gorgeous and the restaurants on the water look delicious. Walk up and down the alleyways and get lost.
6. Get a view of the Old Town. Take a short hike up the hill opposite the city and find the lookout point to get a great view of the city.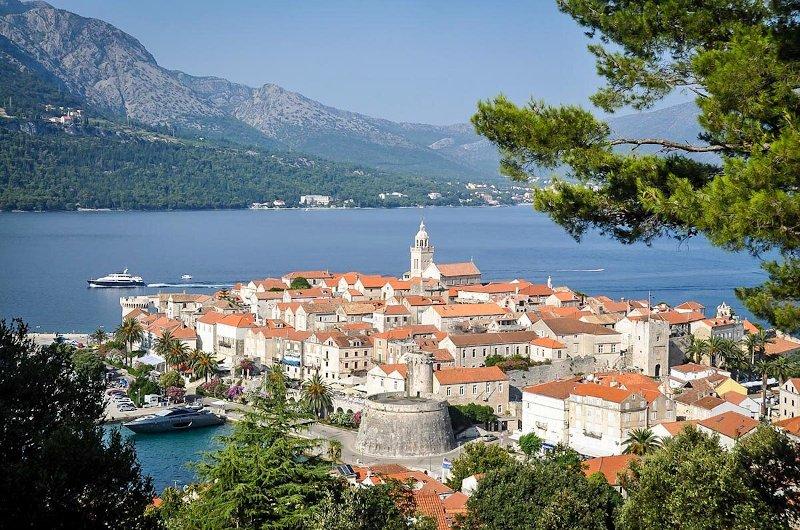 The nightlife, beautiful beaches, historic center and proximity to some of the country's most famous islands makes Split a popular destination on most Croatia itineraries. Its location on the Adriatic coast makes it a popular stop for cruise ships as well.
Can't-Miss Highlights of Split
1. Explore the Old Town city center. Remnants from the former Roman Emperor, Diocletian's Palace makes up the majority of the city center of Split known as "Old Town". Make your way through the narrow alleyways, shop around, grab a bite to eat or climb the old bell tower for some seriously epic views of the city.
2. Make your way to the beach. There are plenty of beaches to choose from in this coastal town. Some of the best include Bačvice Beach, which is right near Old Town and by far the most popular, and Trstenik Beach which is more of a local secret and not nearly as crowded.
3. Indulge in the food at Bokeria Kitchen & Wine Bar. Whether you're going for a boozy brunch on the weekend or a fancy night out, Bokeria was hands-down on of our favorite restaurant in Split and worth checking out for the decor alone.
4. Climb Marjan Hill for sunset. To escape the city, head west and enter the Park Šuma Marjan. It's a bit of a climb up hundreds of steps but if you go later in the afternoon, you will be rewarded with great sunset views of the Old Town and the sea.
5. Get into nature in Krka National Park. It may not get as much hype as it's larger sister park, Plitvice, but Krka is most-definitely worth a visit just 1.5 hours outside of Split. With a single loop around the park, it's easy to walk the park on your own and there is no need for a tour. And while swimming is supposedly forbidden in national parks, it is "tolerated" in a single area of Krka so don't forget to bring your suit!
Hvar is an island off the Croatian coast near Split which is best known as a boujee resort destination with lots of partying. While there are some luxurious resorts on Hvar, it is also possible to experience Hvar on a budget. And there are plenty of things to do on the island that aren't party-hopping.
How to get to Hvar from Split
The easiest way to get to Hvar Island is by ferry from Split. The Jadrolinija ferry operates year-round and runs daily from Split to Hvar and back. The 1 hour journey will cost a reasonable 110 kn for adults (about $16 USD) and there are plenty of times to catch the ferry throughout the day.
The highlights of Hvar
1. Find a hidden beach. There are plenty of beaches on the island of Hvar to get your tan on or take a dip. One of favorites for a day full of relaxation is Pokonji dol Beach. You can also walk along the road between the Hvar marina and Pokonji dol Beach to find some hidden spots to take a plunge and have a bit more privacy – that is if no one else sees you and decides to join.
2. Visit Stari Grad. Literally translated to "Old Town," Stari Grad has been settled since prehistoric times and is the oldest town in all of Croatia and one of the oldest in Europe. Rent a scooter and drive the stunning 15 mile stretch along the coast on the Old Road from Hvar Town to Stari Grad and go exploring.
3. Indulge in good food and local wine. Hvar has lots of wineries, each creating their own special blend of local Croatian wine that is begging to be taste tested at one of Hvar Town's many delicious restaurants. Some of our favorites include Black Pepper Restaurant, Fig Cafe and Lungo Mare.
4. Hike to the Spanish Fortress. Sitting high above Hvar Town is Tvrdava Fortica, an elevated fortress which can be accessed via the scenic walkway, with sweeping panoramic views of the sea and surrounding islands. We recommend packing a picnic and heading up there for the sunset with a bottle of local wine!
5. Rent a boat to explore the Pakelni Islands. For a reasonable price you can rent a speedboat for a half or full day to explore the neighboring island archipelago, the Pakelni Islands. With crystal clear waters, untouched beaches and hidden lagoons, you can easily spend the day in this undeveloped paradise.
6. Climb Sveti Nikola. With just over 2,000 ft in elevation gain, Sveti Nikola is the island's highest peak and makes for an active day's climb.
7. Hit up a beacless beach club. Hula-Hula is one of Hvar's most popular beach clubs, but you won't find a beach here. Head here for an afternoon of sunning, seafood, cocktails and dancing. There are ladders to drop into the water for a dip, but nothing resembling a beach. It's a younger crowd here too, and the party is at its peak for sunset, but dies down shortly after that and closes by 10 pm.
Plitvice Lakes National Parks
We couldn't make a list of highlights of Croatia without including this otherworldly beauty: It literally looks like you are walking in a fairytale land.
Plitvice Lakes National Park is a stunner, and it's popular for good reason. So popular, in fact, that if you're visiting during peak season, you'll likely be walking behind lines of other tourists in parts of this national park.
Tip for avoiding crowds in Plitvice
Getting there early will help you avoid the crowds. Visit the most popular spots early in the day or in the later afternoon when the lighting is better and the crowds have thinned. In the meantime, venture off the well-trodden path a bit for a better chance of (semi) solitude.
Suggested Route for Plitvice Lakes
There are 7 popular hiking routes around Plitvice Lakes, all with varying degree of difficulty and time. To avoid the crowds in Plitvice and see all the major sights, this is the route that we would recommend:
Do the H hiking route in reverse. Starting at Entrance 1, go down to the Lower Falls, see the Great Waterfall, (which is spectacular) but then follow the reverse of the H hiking route (similar to K route). This way you won't feel like cattle moving on walkways with the rest of the crowds. You can either walk around the big lake or take the ferry across.
The Upper Falls were our favorite part, because there were less people and the way the water flows off all the rocks is unlike anything we have ever seen. Continue to follow the H hiking route in reverse, twisting through the upper falls, until you reach Station 3. Then, take the free shuttle to Station 1 so you don't have to walk the entire way back.
Insider tips for Plitvice Lakes National Park
Pack a picnic lunch because a) it's a beautiful spot for picnics, and b) the choices inside the park are limited and expensive.
Stay in a hotel near Plitvice instead of doing a day trip from Split or Zadar (if your timing allows!). You'll get there bright and early and will be able to stay after the last buses leave.
If you're traveling to Plitvice as a day trip, read this first!
We departed from Split and were going to Zagreb that night, so we had all our stuff. There is a free storage room at Plitvice Lakes in which you can leave your belongings. Do know that the storage room is locked, but it's not secure.
People will be going in all day long to drop off and pick up their belongings, so lock up your valuables. A trick we often use is locking our bags together with wire locks. Nobody will steal your bag when it's locked to another bag. It's just too awkward!
Admission Cost for Plitvice Lakes National Park
High Season: July 1 – Aug 31: Adults: 180 Kuna ($28 USD) Students: 110 Kuna ($17 USD)
Shoulder Seasons: April 1 – June 30 & Sept 1 to Oct 31: Adults: 110 Kuna ($17 USD) Students 80 Kuna ($12.50 USD)
Low Season: Nov 1 – March 31: Adults: 55 Kuna ($8.50 USD) Students: 45 Kuna ($7 USD)
The northern part of Croatia that juts out into the Adriatic sea is known as the Istria Peninsula. This peninsula has a unique history – first it was considered part of Italy after WWI, then it was part of Yugoslavia following WWII and is now a slice of Croatia where the locals are of both Italian and Croatian descent.
The Istria region of Croatia is not as well traveled as its lower, coastal half and the towns and historical charm are much more preserved. Istria is also the region known for growing truffles – the rare fungi considered a delicacy in most of the world due to its intense flavor.
Places to Visit in Istria
Pula
This seaside town on the southern tip of the Istria peninsula is known for its beach-lined coast and Roman ruins. Pula is the largest city in the Istria region and has a history of being occupied, destroyed and rebuilt.
The most prominent marker of its history is the Pula Arena, which bears a striking resemblance to Rome's Colosseum. It is also the only remaining roman amphitheater on earth that has all four side towers and with all three Roman architectural orders entirely preserved.
Pula is a great starting off point to discover the rest of the Istria peninsula.
If there's one thing Croatia seems to do exceedingly well, it's charming historical towns on the coast and Rovinj may just be the underrated crowning glory. A fishing port on the west coast of the peninsula, the enchanting old town of Rovinj is built up on a hill. The narrow cobblestone streets all lead to the church at the top, who's steeple dominates the horizon.
Things to do in Rovinj
1. Get lost in the tangled web of streets as you make your way through the town, ducking into alleyways to reveal turquoise blue waters framed by the outer walls of the town.
2. Discover the local market, filled with fresh produce, spices and all the truffle you can get your hands on.
3. Take a dip at Lone Bay, one of the area's pebble beaches, just south of Old Town.
4. Have a cliff-side snack or drink at La Puntulina. With only a few tables on their outside terrace, you'll want to be sure to get a spot to take in the views as you indulge in a glass of wine or some Italian-inspired bites.
We mentioned that Istria is known as the truffle region of Croatia and Croatia happens to be the best (and one of the only!) place to find truffles in the world. So it's no wonder that truffle hunting has become a bit of an experience to be had in the region. If you are visiting during the months of April – November, it is a great time to experience the thrill of the "hunt"!
Did you know you can get to Italy from Croatia in just 3 hours!? There are 2 ferries that run between Pula and Venice, Italy 8 times every week. The price varies by season but the trip takes just 3 hours and is well-worth it if your travel schedule allows.
You might just find a lot more similarities than you'd guess between Venice and the Istria region of Croatia.
The city of Zagreb actually really surprised us. It feels worlds different than the coastal towns, and actually has a very welcoming and accessible vibe.
Things to do in Zagreb
1. Wander Tkalčićeva Street: This pedestrian walking street is packed with restaurants and bars serving good happy hour deals.
2. Pop into one of the many cute coffee shops. There are hundreds throughout this city so find one in a busy square, relax and people watch.
3. Visit St. Mark's Church. This church built in the 13th century, has colorful roof tiles showing the Croatian, Dalmatian and Slavonian coats-of-arms.
4. Visit Dolac Market: Be sure to walk through the massive Dolac Market to pick up fresh fruit.
5. Gaze at street art: Get lost in alleyways in search of the city's street art. During our free walking tour, our guide brought us to some pretty cool art.
7. Free walking tour in Zagreb: Always a good way to see the city and its major sites while getting a little history lesson too.
6. Visit the Museum of Broken Relationships. This quirky museum is a collection of personal items people received from former lovers, and is complete with stories.
Good to Know
Read the basic info and also some fun facts about Croatia!
Ready for your next trip?
Our advice if you are considering visiting Croatia: Avoid peak tourist season. Period. Go somewhere else. Budget quite a bit more money than you would for the rest of Eastern Europe. We knew Croatia would be one of the more expensive countries on our trip. But we didn't think it would be the same prices as Western Europe. You'll enjoy yourself more if your budget has some wiggle room. Have realistic expectations about crowds. Unless you visit during a totally off-peak time, Plitvice Lakes will be crowded. Dubrovnik may feel a bit like Disney World.
Leave a Reply
Do you have some comments or questions for us? We'd love to hear from you! Don't be shy! Feel free to drop us a message!