UAE's Top Staycations
You are a declared urbanite and you love getting lost in the hustle and bustle of cities, meeting the locals and letting yourself be carried by each city's unique rhythm. Your heart beats to the sound of the different cultures that move the cities and you move like fish in water in its busy avenues.
There's hardly the need to drive far out of city limits to find the perfect getaway when the UAE's buzzing urban landscape is home to some of the finest leisure destinations. Here are some of our favorites.
Set in the heart of one of Dubai's most iconic landmarks, Fairmont The Palm is popular with families and socialites alike. With an array of dining options, you can be dancing to the sound of live Brazilian beats at the hotel's Frevo restaurant or enjoying delectable Indian delicacies at Little Miss India. The hotel's kids club and dedicated family pool mean there is enough space for everyone. At the adults-only pool, guests can enjoy serenity while they sip a poolside cocktail or pass the day listening to the sound of the ocean, overlooking sweeping views of the stunning landscape. The hotel's health club, which offers a range of classes from yoga to spinning, ensures guests can enjoy the range of gastronomic feasts guilt free. And if getting away from it all is calling, the resort's Willow Stream Spa is the perfect retreat. Within easy reach of many of Dubai's popular destinations, from malls to water parks and more, there is never a dull day at Fairmont The Palm.
The St Regis Saadiyat Island, Resort, Abu Dhabi
It's easy to get lost in this sprawling beach-side resort, to forget the worries of the world and be tempted by indulgence at every turn. Inspired by classical Mediterranean architecture and contemporary interior design, the resort is elegant and understated. And with so much to do – think lounging in a poolside cabana, soaking up the sun at the beach or enjoying a relaxing massage – it's hard to leave the resort, especially with all the favorite things we love from the St Regis brand. The signature afternoon tea remains a cherished preserve while the Manhattan Lounge lends itself to either start or finish the evening. Upscale Manhattan dining wouldn't be complete without a trademark New York-inspired steakhouse.
Taking its name from the address of The St. Regis New York, 55&5th, The Grill is a classic lounge, complete with an outdoor terrace, cellar, personal sommelier and private dining rooms. And the resort's new kid on the block adds a more international flavor. Buddha-Bar Beach Abu Dhabi, the world's only permanent venue from the famed brand, brings luxurious beach club life and delectable dining all under one roof. So, get the sand between your toes or put your glamorous dancing shoes on to enjoy one of the world's most lauded destinations.
Eastern Mangroves Hotel & Spa by Anantara, Abu Dhabi
Not only is this hotel a natural haven, surrounded by the lush waters of the mangrove lagoon on one side and the waves of the ocean on the other, but it also offers adventures for the whole family. Whether you choose to head outdoors, kayaking through the natural habitat of the lagoon, where there is a whole array of local flora and fauna to explore, or you prefer indoor lounging, Eastern Mangroves Hotel & Spa by Anantara makes for an ideal escape. It's hard to imagine how a property nestled amidst the capital's buzz still manages to feel like a world away from all your worries.
Add to it the experience promised at the award-winning Anantara Spa and you have yourself the perfect getaway. Your therapist will help while away any stresses and strains while the relaxing hydrotherapy facilities will ensure you leave feeling truly rejuvenated. Diners will be impressed with the extensive choice of gastronomic delights on offer. A feast for the senses, explore the world without leaving the hotel as you try out various flavors from signature Thai fare to traditional Middle Eastern specialties across five unique venues.
La Ville Hotel & Suites, Dubai
A relatively new urban district, City Walk has transformed the Al Safa neighborhood with its diverse entertainment offering. From high-end retail boutiques to international eateries, there's plenty to experience, which means making La Ville Hotel & Suites your base is the ideal choice. When you're not exploring the area, kick back and relax at the hotel's rooftop pool with a cocktail in hand, taking in views of Downtown Dubai's cityscape. Head indoors and you can enjoy world-class amenities from the comfort of your room or hit the gym for an intensive workout session.
With the array of dining options within the hotel, you'll hardly feel the need to venture outside. World-class wines at Grapeskin are great for sundowners or post-dinner drinks while Graze lends itself to a cosy dinner featuring premium cuts of beef, seafood and vegetarian options. And there's nothing like waking up to a power-packed breakfast the next morning with all-day dining venue Chival boasting a sumptuous spread of healthy offerings to fuel up for a busy day ahead.
Jumeirah at Etihad Towers, Abu Dhabi
In a landscape brimming with luxurious offerings at every turn, Jumeirah at Etihad Towers stands out for its otherworldly charm, and of course, for the best views of the capital, thanks to its staggering height. Part of the five stunning structures that make up Etihad Towers – an iconic Abu Dhabi landmark – you feel instantly transported away from the urban bustle the moment you step in. While its location puts you in close proximity to some of the best shopping, dining and entertainment options in the emirate, the hotel's leisure offering means you might never want to leave. There's a private beach you can enjoy, along with three swimming pools, great for refreshing dips or simply lounging with a book in hand. And with a choice of 12 dining venues, the hotel is a culinary destination in its own right. Enjoy lip-smacking treats from Lebanon at Li Beirut, vibrant Latin flavors – complete with groovy Cuban tunes – at Toro Toro or head to Observation Deck at 300 for afternoon tea, the highest vantage point in the city for breathtaking views of the capital.
Dubai's dynamic hotel scene makes the most of the emirate's dynamic nature, which is why, escaping the city is often the first choice for travelers seeking a break. But you'll be pleased to know that, just 20 kilometers from Downtown Dubai, lies a palm-fringed oasis with lush polo fields and an ambience reminiscent of summer by the Mediterranean countryside. Retreat to Mélia Desert Palm Dubai this summer by booking your stay at this plush resort.
From the comfort of your spacious accommodation, enjoy rainfall showers, high-tech amenities, leisurely dips in the private pool and serene vistas of the gardens. During your stay, savor your way through fine Arabic and Mediterranean flavors at the resort's dining venues, which offer exquisite culinary journeys paired with the finest wines.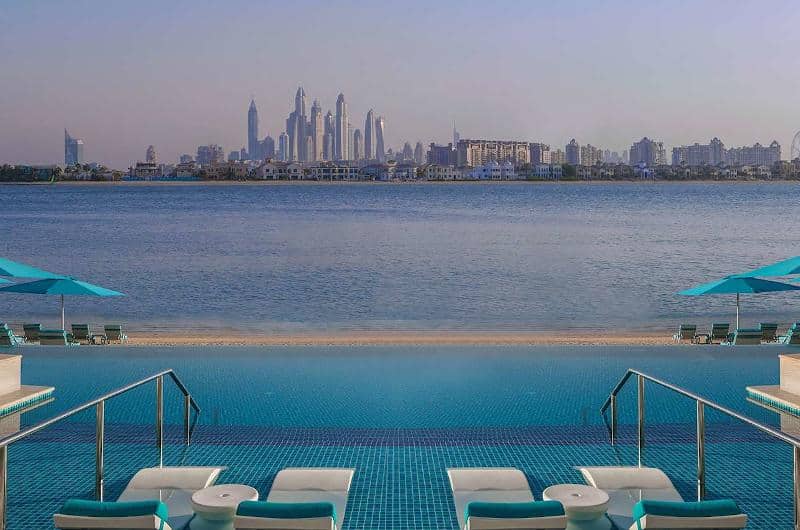 As the Middle East's first holistic wellness resort, this tranquil haven on Dubai's Palm Jumeirah has something unique to offer. Making the most of its location by the waterfront, the hotel boasts a remarkable setting for a true sense of escape. While a few moments spent by the private beach is sure to lower your stress levels, the hotel offers so much more to help you get in sync with your inner self. Whether you're looking to get on track with your health goals or give your well-being a boost, take your pick from a series of wellness programmes encompassing everything from weight loss to juice cleanses. And as an exclusive offering to guests choosing to make the hotel their summer holiday abode, get a complimentary genetic test to decode your DNA, complete with personalized guidance for healthy living.
Good to Know
Read the basic info and also some fun facts about United Arab Emirates!
Ready for your next trip?
Looking for a different plan this week? Are your holidays close by and you want to stay close to home? Escape to one of our hotels in Abu Dhabi or Dubai and enjoy an unforgettable experience with the best offers for staycations. Because the best plans have it close, without the need to leave the UAE.
Leave a Reply
Do you have some comments or questions for us? We'd love to hear from you! Don't be shy! Feel free to drop us a message!